This is a Torino owned by Carl Brunson. He is a friend of ours from Las Vegas, Nevada.
This 2 cars belong to George Tucker. The top one is a 40 Chevy 4 door sedan. It's powered by a 454 ci big block chevy. My dad and I installed air, a console, a third brake light and misc. other items for George.
The is a 49 Ford. This car is stock
The car belongs to a friend. It's a 39 Chevy sedan with a Mustang II front suspension and small block chevy.
I am sure some of you will recognize this car it was a Hot Rod Magazine Hot Rod of the Year. I know Tom Wilkinson personally and have worked on some of his other creations. Tom has been a family friend for years as he went to school with my father.
This is my brothers mother-in-law's brand new car. It was totaled by a drunk.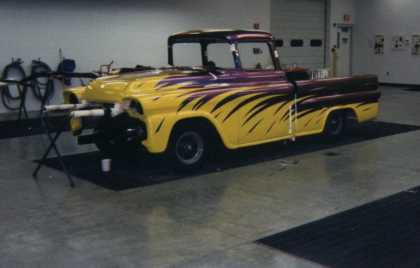 This truck belongs to a friend of ours. It is painted with BASF Color Extremes Rainbow paint. The purple changes colors based on the amount of light
Check out more here